Dames Dissertation Makes Waves Worldwide.
2 Years. Nearly 200 downloads.
In 2021, my dissertation, Dames Paving Pathways to Directorships. A Study About Female Leaders in Art Museums in the United States was published along with numerous doctoral studies that year, I'm sure. The aftermath of diving into a study about gender dissonance in the world of art museums, which are my sacred spaces, was enlightening and draining. In my circle of peers, the process of completing a research study that can take years and cause many missed get-togethers with family and friends, we wanted to put it behind us. We were done, yet the documents lived on. I received emails from my university with data about my dissertation being accessed, read, and downloaded. Not knowing how this compared to other readerships, I decided to review the statistics.
Download Data
On average Dames was downloaded 7.1 times monthly. Over two years, it was downloaded nearly 200 times and accessed over 400 times worldwide. The greatest number of downloads was 17 times in September 2021. Interestingly, in the month of March (Women's History Month), Dames has a consistently high number of downloads with a record of 14 times (2021), 13 times (2022), and 12 times (2023).

Intrigued, I wanted to know more and I wanted to share this information to further exemplify the great work female leaders do in and around the art world. They clearly have an audience.
Looking back on the research methodology, this phenomenological study described lived experiences of eight female art museum directors with over five years of directorship experience from museums with operating budgets over $10 million and in states that receive the highest private funding: CA, DC, IL, MA, NY, OH, PA, and TX. Yet, the readers reside in 23 countries.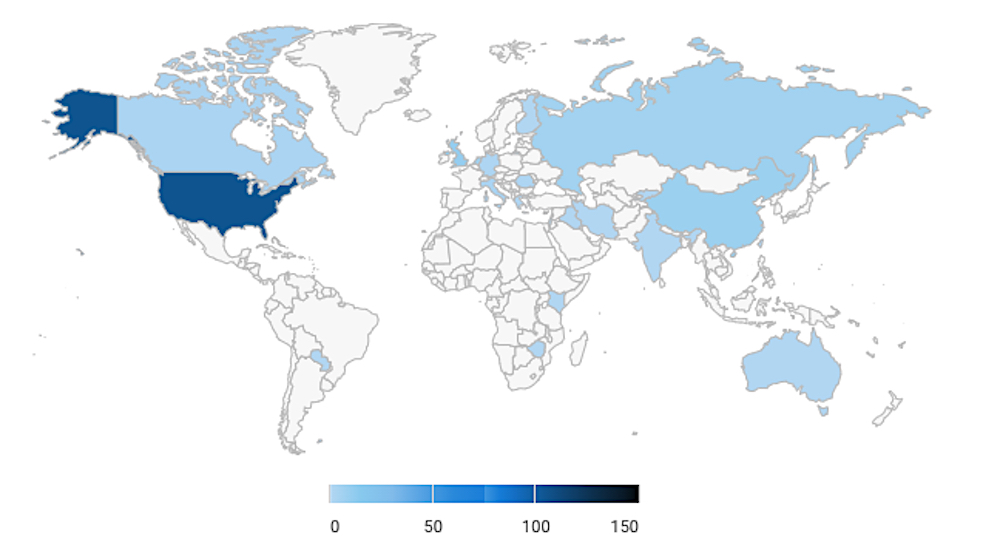 Readership Locations
With little to no promotion and accessibility on open-source websites, Dames made her way around the globe. Beyond individual readers, there were over 20 institutions documented: 62% commercial and 37% educational.
Taking a deeper look at where Dames is making an impact, it wasn't surprising that 75% of readers are located in the United States, especially since this is part of the dissertation title and integral to the sampling frame. Outside of the U.S., the top locations with the greatest number of readers are: 7% in the U.K., 6% in China, 4% shared by the Netherlands and Russia, and 2% shared by Canada and Italy.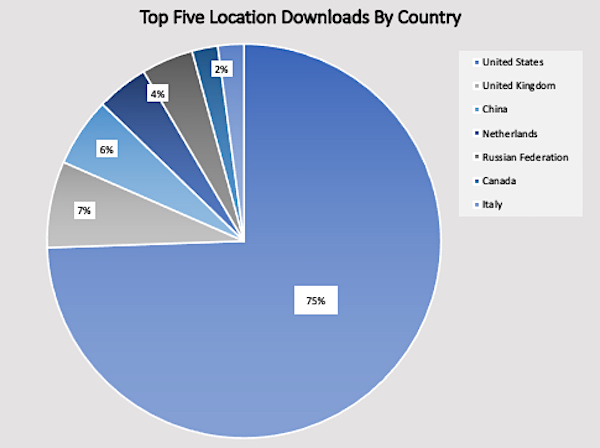 Analysis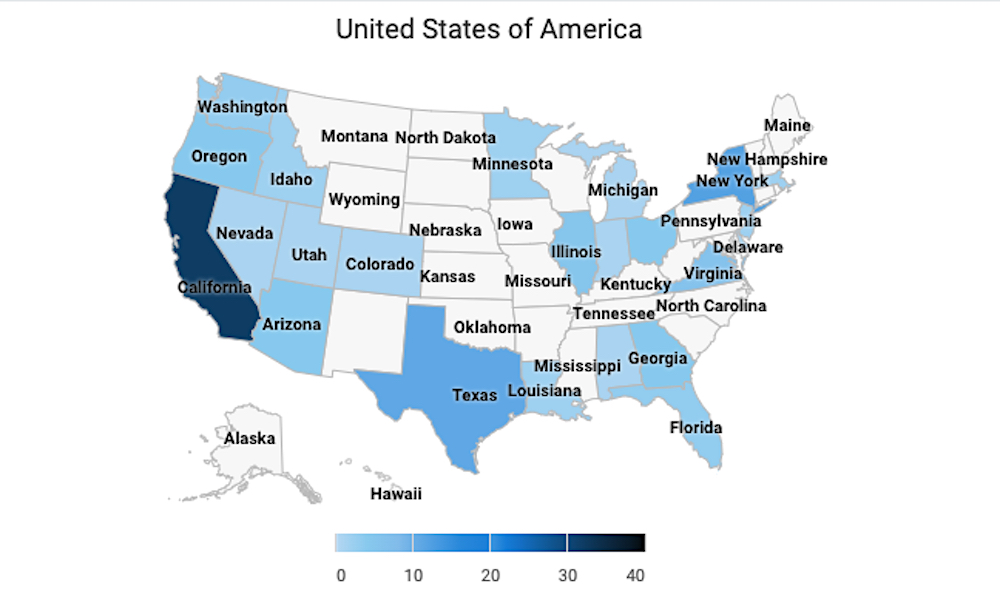 Naturally, it was important to analyze locations in the U.S. to determine if readership correlated with the sample population. The sampling strategy was based on equitable national representation in eight states. The researcher approached 22 female art museum directors with a goal of meeting a maximum of 50% positive response rate from each region (West, Midwest, Mid-Atlantic and East) to ultimately conduct eight to eleven interviews nationwide. The data of domestic readership exceeds the targeted locations. Dames was downloaded across 23 of our 50 states, and 16 of the 23 locations >2 readers were engaged. The top five domestic locations and the number of downloads are not necessarily connected to where interviews were conducted.
California: 32 downloads 20 in Norcal and 12 in SoCal. New York: 12 downloads with the majority in Buffalo and Manhattan. Texas: 11 downloads in the metropolitan areas of Dallas and Houston. Virginia: 6 downloads outside of the Washington DC area. Illinois: 5 downloads in Chicago. Honorable mentions for the sixth greatest number of engaged readers are shared by four states: Arizona, Ohio, Oregon, and Georgia.
Therefore, I say to the women leading in art museums across this country, we appreciate you, and we seek you out especially in the month of March when we celebrate the achievements of so many women before us, now and in the future.